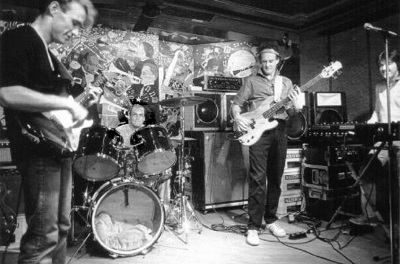 Whilst with Kate Bush, Alan had a band going called the 'Stapleton All Stars' – named after a London pub called The Stapleton. They later changed their name to 'SFX'. John Hill from Fender asked them to become a touring unit to promote Fender equipment at clinics - the `fender Hit squad'. This covered the period from 1981 to 1983, during which they did bursts of pub gigs like the South London 'Cricketers' next to the Oval cricket ground and North London's 'Bull and Gate'. The core of this band comprised Felix Krish on bass, Tony Beard on drums and Richard Cottle on keyboards.
Alan's influences at this time were Larry Carton, Lee Ritenour and Steve Millor. SFX were beginning to earn enough money to be able to pick and choose the work they took on. They also began to record their own instrumental material at Felix's house. SFX continued until about the end of 1984 where they realised that their style was too specialised to attract a record deal. However, after Alan's death an album of nearly finished SFX material was released on the Naim label.
The next milestone for Alan was a session for Nick Heyward on his single 'Warning Sign' in November 1984. Alan's guitar solo was composed on the spot and it gained him much recognition especially as the single was a success.
Kates albums were originally recorded with Jon Kelly at Air Studios and, through Jon's Japanese wife, contacts were made with some musicians from Tokyo who invited him over for recording session work. Despite the fact that it was expected there for musicians to be able to read music, Alan's slow music reading skills didn't handicap this opportunity to shine. The bass player was John Giblin, (from the Marquee days). Alan continued to play on albums for Akira Inoue (pronounced Ak-iri En-o-y.) Bill Bruford (drums) and Mark Smith (bass) were also involved.
Around this period vocalist Jim Diamond left a band called 'Bandit'. Alan and a singer friend - Gerry True - joined. Other members were; bass player Tony Leicester, guitarist Danny MacIntosh and drummer Graham Broad. They played the pub circuit in search of an album deal despite suffering some internal problems and personnel changes.
'Bandit' were good friends with another band called 'Quick' and members of both bands came to see SFX playing at the Cricketers. Quick had one of the first Prophet 5 synths, and they once lent it to some friends in an up and coming band called 'Go West'…..
Alan Murphy | Guitarist | SFX