Site is under construction and additional material relating to Alan Murphy is very welcome. You can get in touch using the
CONTACT PAGE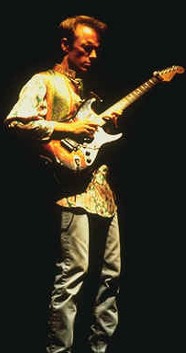 This site is dedicated to the life and musical career of Alan Murphy, one of the most talented rock/pop/fusion guitarists to emerge from the UK in the 80's.
The information you will find on this site charts his rise from playing in a variety of London pub bands, through a period as a much sought-after session player, to his position in high profile artists / bands – including:
- Kate Bush
- Go West
- Level 42
until his untimely and tragic death in 1989 from complications brought on by the Aids virus.
We hope you enjoy this tribute to one of the true guitar greats.
If you have memories or any information, photos, recordings, video etc about Alan, we would love to hear from you - please
CONTACT US
Alan Murphy | British Jazz/Rock